Pobór mocy lampek na taśmie LED
Zużycie energii jest jednym z głównych powodów, dla których jako społeczeństwo zaczęliśmy przestawiać się na diody LED. Moc w watach mówi nam, ile energii zużywamy, gdy światło jest włączone. Ponownie sprawdź moc na metr przed zakupem. Niektórzy ludzie, którzy czytają "12 watów" na rolce, mogą nie zdawać sobie sprawy, dopóki nie wrócą do domu, że jest to zużycie energii na metr, co oznacza, że cała rolka zużywa znacznie więcej. Być może kupili też 20-watowy zasilacz, myśląc, że to wystarczy. Dzieje się tak często, gdy sprzedawca nie podaje odpowiednich informacji prawidłowo i w łatwym do zrozumienia formacie.
Taśmy LED wymagają 12 woltów prądu stałego. Następnym krokiem jest określenie mocy. Uproszczony wykres nie powinien być zbyt trudny, jeśli wybrałeś już gęstość rozmieszczenia diod LED i długość paska.

Opcje zasilania LED:
– Adapter wtykowy – podłączany bezpośrednio do gniazdka ściennego w celu zasilania taśm LED
– Zasilanie – łączy listwy bezpośrednio do źródła zasilania
– Baterie – znajdź baterię 12V lub użyj 8-ogniwowego uchwytu baterii.
Na koniec upewnij się, że znasz napięcie, którego będą używać Twoje elastyczne diody LED. 24-woltowe światło LED nie będzie działać, jeśli kupisz zasilacz 12-woltowy, a także może stanowić zagrożenie pożarowe. Musisz wybrać odpowiedni zasilacz do swojego źródła światła.
Okablowanie i podłączenie taśm LED.
Ponownie przydaje się wcześniej wykonany szkic, dzięki czemu można zaplanować, w którą stronę będą przebiegać wszystkie paski. Czy na dłuższą metę planowano uruchomić wszystkie pasy razem? Jeśli całkowita potrzebna długość przekracza maksymalną długość taśmy (5 m), poprowadź równoległe kable od źródła zasilania do każdej taśmy. Jak pokazuje nasz szkic, czasami będziesz chciał podawać paski z różnych kierunków do wspólnego zasilacza. W takim przypadku przewody należy prowadzić równolegle.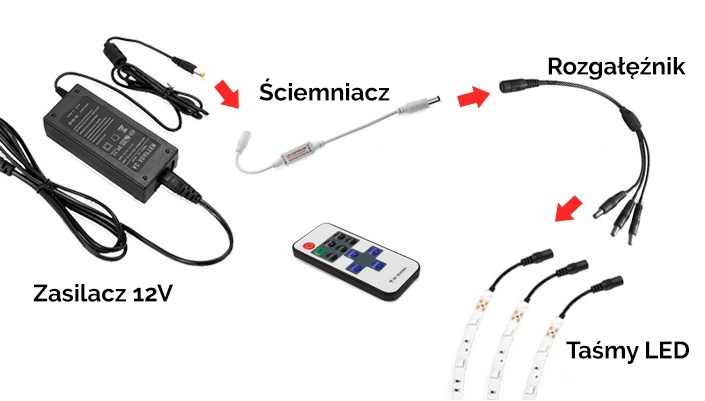 Okablowanie taśm LED, gdy masz do czynienia z wieloma rolkami taśm, może być trudne – dlatego w tym celu stworzono zasilacz i przewodnik okablowania, który znajdziesz tutaj.
Akcesoria elektroinstalacyjne – złącza i rozdzielacze.
Łączenie taśm LED jest niezbędne do każdego projektu taśmy.
Zasilanie LED wszędzie
Sterowniki LED wykorzystują do oświetlenia dekoracyjnego i architektonicznego LED, oznakowania LED, oświetlenia teatralnego / scenicznego LED, wbudowanego oświetlenia LED i dużych wyświetlaczy LED.
Zasilacze modułowe są zalecane do złożonych instalacji LED, monitoringu i zastosowań przemysłowych.
Oferujemy zasilacze w kilku seriach.
Seria CL pochodzi od znanego i cenionego producenta Mean Well i jest objęta trzyletnią gwarancją producenta.
Zasilacze serii EPS są tańszym odpowiednikiem serii CL.
Zasilacze serii CPS oferowane są z różnymi napięciami wyjściowymi i szerokim zakresem mocy wyjściowych.
Zasilacze serii CLPS są dostępne z różnymi mocami wyjściowymi i szerokim zakresem napięć zasilania.
Dla mniej wymagających klientów polecamy serię EPS.
Są to zasilacze o napięciu wyjściowym 12 V DC, oferowane w różnych mocach wyjściowych.
Produkty te charakteryzują się doskonałym stosunkiem ceny do wydajności.
Zasilacze FXX posiadają dwuletnią gwarancję producenta.
Zasilacz z możliwością ściemniania
Ściemniacz triakowy
prąd przemienny
Strona AC 100-240V
Ściemniacze TRIAC
Zasilacze zewnętrzne z możliwością przyciemniania