Het selecteren van het juiste wattage van een voeding is heel eenvoudig. U hoeft alleen het wattage van de meterband die u koopt en de lengte ervan te kennen. Vermenigvuldig het gegeven wattage met het aantal meter tape en voeg een reserve van 10% toe. Op deze manier krijgen we het benodigde vermogen van de voeding.
Stel dat we een voeding nodig hebben voor een 5 meter lang stuk SMD 3528 300 LED tape met een vermogen van 4,8 W per meter. De berekening zal eenvoudig zijn:
(5 m 4,8 W/m) 110% = 26,4 W
Belangrijk. De voeding kan sterker zijn, maar nooit zwakker dan de berekende spanning. In het bovenstaande geval kunnen we een voeding van 30W of meer gebruiken (60W, 150W, enz.).
Natuurlijk is het wattage van een voeding het wattage dat het resultaat is van de uitgangsspanning en de stroom, waardoor problemen met spanningsverlies worden opgelost en er tegelijkertijd wordt bespaard op installatiekosten.
Bekijk 24vdc voeding
Voeding 24V DC uitgangen 100W 4.16A (DC) pulsgestuurd, gestabiliseerd, waterdicht.
Deze voeding heeft een hoge IP67-bescherming, is van binnen volledig afgedicht, waardoor hij waterdicht is voor gebruik buitenshuis. De behuizing is bestand tegen mechanische schade. Het kan binnen en buiten worden gebruikt. Maximaal 20 m 300 ledstrips of 10 m 600 ledstrips is voldoende. Dankzij de ingebouwde kabels is het aansluiten van de voeding eenvoudig en snel. Elk heeft een lengte van ongeveer 15 cm.
E-mail ons voor prijzen, op voorraad – bestel snel
Zie je je filter niet?
Neem contact op met de fabrikant voor productcategorieën. Aangepaste uitgangsspanningen zijn verkrijgbaar bij OEM. Laat ons weten wat u nodig heeft. Wijzig je bezorgadres om artikelen te zien die naar een ander land worden verzonden. Wij bedienen onze klanten sinds 2011, neem nu contact met ons op Feedback Compliance en Beperkingen.
RGB LED-strip en zijn kenmerken
Dit is een technologisch geavanceerde armatuur die naar behoefte licht in verschillende kleuren kan uitstralen. In de regel kunnen we precies de kleur kiezen die we leuk vinden uit het hele kleurenpalet – dit is de betekenis van de RGB-aanduiding. Het mengen van lichte kleuren vereist echter dat de strip de juiste driver heeft waarmee we de modi kunnen beheren. Elke LED-strip, zelfs monochroom, vereist een voldoende stroomvoorziening – vanwege de moderne technologie worden hier speciaal geselecteerde voedingen gebruikt. Ze verlagen de spanning van 230V AC die in onze installaties stroomt. Voor LED-strips, die een nominale spanning van 230V hebben, is de voeding niet nodig, maar de meeste hebben ongeveer 12V.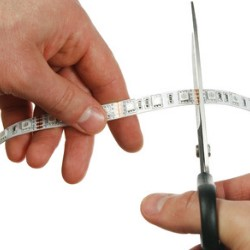 Veiligheid en naleving
Wat moet er in ons DALI-circuit zitten?
Om het circuit goed te laten werken, moeten er minimaal 3 apparaten op ons netwerk zijn aangesloten. De apparaten in het netwerk zijn als volgt: DALI-controller – het apparaat dat de opdrachten naar ons systeem stuurt, dit wordt MASTER genoemd.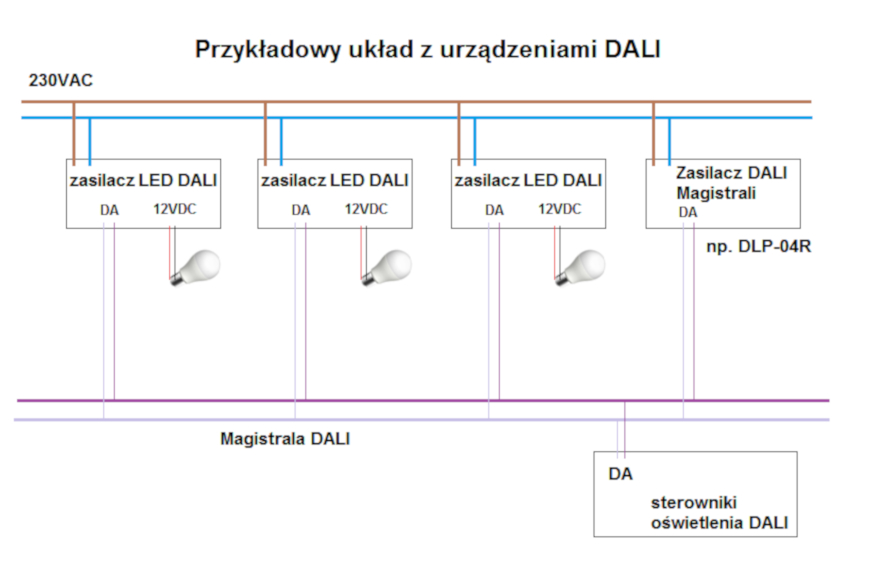 Instructies voor het aansluiten van de LED-strip
De volgorde van aansluiting van de ledstrip zelf
1. 24vdc voeding –> 2. 24vdc ledstrip

De volgorde van aansluiting van de ledstrip en de driver
1) 24vdc voeding –> 2) 24vdc-controller –> 3) 24vdc ledstrip

Hoe sluit ik de 24vdc draden aan?
Verbind de draden volgens de kleuren. Je kunt ze solderen of verbinden met een dobbelsteen.