Power consumption of the LED strip lights
Power consumption is one of the main reasons why we as a society have started to switch to LEDs. The wattage tells us how much energy we are using when the light is on. Again, check the wattage per meter before you buy. Some people who read "12 watts" on a roll may not realize until they get home that this is the power consumption per meter, which means the whole roll is consuming much more. They may have also bought a 20-watt power supply, thinking that would be enough. This often happens when the retailer fails to provide the relevant information correctly and in an easy-to-understand format.
LED strips require 12 volts of direct current. The next step is to determine the wattage. A simplified chart should not be too difficult if you have already selected your LED placement density and strip length.

LED power supply options:
– Plug-in adapter – plugs directly into the wall outlet to provide power to the LED strips
– Power supply – connects the strips directly to a power source
– Batteries – find a 12v battery or use an 8 cell battery holder.
Finally, make sure you know the voltage your flexible LED lights will use. A 24-volt LED light will not work if you buy a 12-volt power supply, and it can also be a fire hazard. You must choose the correct power supply for your light source.
Wiring and connection of the LED strips.
Again, a sketch made in advance is useful, so you can plan which way all the strips will run. Was it planned to run all the strips together in the long run? If the total length needed exceeds the maximum strip length (5 m), run parallel cables from the power source to each strip. As our sketch shows, sometimes you will want to feed strips from different directions into a common power supply. In this case, you should run the wires in parallel.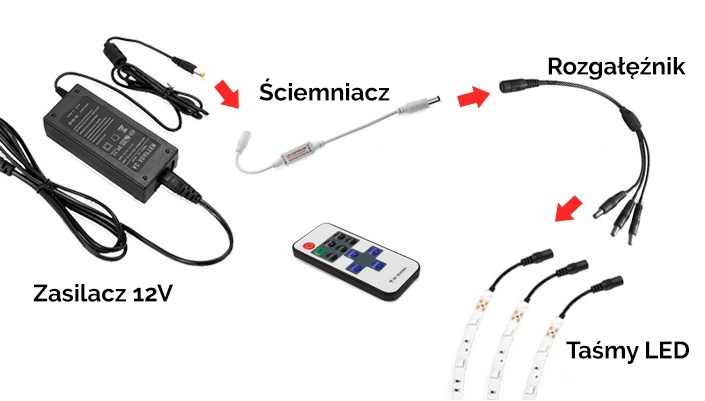 Wiring LED strips when you're dealing with multiple rolls of strips can be tricky – so a power supply and wiring guide has been created for this purpose, which you can find here.
Wiring accessories – connectors and distributors.
Connecting LED strips is necessary for any strip design.
LED Power supply everywhere
LED Drivers use for LED decorative and architectural lighting, LED signage, LED theatre/stage lighting, LED embedded lighting, and LED large screen displays.
Modular power supplies are recommended for complex LED installations, monitoring, and industrial applications.
We offer power supplies in several series.
The CL series is from a well-known and respected Mean Well manufacturer and come with a three-year manufacturer's warranty.
The EPS series power supplies are the less expensive counterpart to the CL series.
The CPS series power supplies are offered with various output voltages and a wide range of output powers.
The CLPS series power supplies are available with different output powers and a wide range of supply voltages.
For less demanding customers, we recommend the EPS series.
These are power supplies with an output voltage of 12 V DC, offered in various output powers.
These products are characterized by an excellent price/performance ratio.
The FXX power supplies have a two-year manufacturer's warranty.
Dimmable power supply
Triac dimmer
alternating current
AC side 100-240V
TRIAC Dimmers
Outdoor Dimmable power supplies