How to connect LED strips by soldering?
It is recommended to connect the LED strip to the mains with a soldering iron or connect the tape in longer sections. This is a traditional method, but due to the durability and reliability of the most commonly used. Soldering the LED strip can be done with standard led transformers soldering iron. It is best to solder the LED strip before installing it in the aluminum profile to be as precise as possible. On each LED strip, there are soldering points where we can install the next section of the strip or connect an additional power supply.
Connecting LED strips – connectors, soldering
LED strips offer great design possibilities. However, the realization of some lighting installations requires the connection of several sections of tape together. LED strips can be connected to each other using special accessories or soldering iron.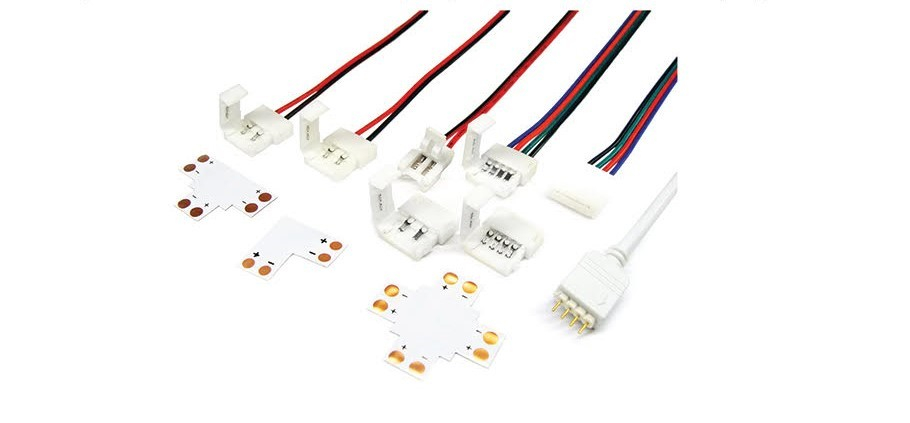 Series or parallel connection of LED strip lights
LED strip lights can be connected together in two ways: in series and in parallel.
Series connection: Series connection of LED strips consists of connecting successive sections of strips together. This type of connection is recommended for short lengths of strips.
Parallel connection: in this connection, each strip is connected directly to the mains. This type of connection prevents voltage drops.
LED Driver use for LED embedded lighting application
15W-60W DC 12V 24V Power Supply
They are suitable for indoor use and ideal for use in the industrial field.
Power Supplies Universal AC input at full range
This LED power supply is equipped with overload protection, overvoltage, and a short circuit.
It is suitable for all LED strips and devices with constant DC 12V and DC 24V.
Outdoor LED Power supply used for LED products
Waterproof LED power supply 60W -300W
LED power supplies are the most critical part of the installation that supplies power to the LED lighting system. Thanks to the LED power supplies, the entire system is supplied with power reliably, safely, and without interference. The power supply provides the LED light sources with a constant current and the appropriate voltage.
AC input side 100-240V 175-240V
DC Output 12V 24V
Constant Current LED Drivers for LED architectural lighting installation
The common application uses high-power LEDs with constant current drivers, requiring a DC voltage input. Use for LED fixture cabinet lights, LED fixture lighting installation
Dimmable power supply
Indoor Dimmable power supplies
Triac dimmer
alternating current
AC side 100-240V
Outdoor Dimmable power supplies