LED-stripverlichting
In een eenvoudige seriële opstelling maken modules op een flexibele printplaat, bestaande uit drie diodes en een weerstand, het mogelijk een constante stroom in de schakeling te handhaven (het resultaat van de specificatie voor de werking van door gelijkstroom aangedreven LED's). De lengte van de te koop aangeboden modules (25 mm, 50 mm, 100 mm) hangt voornamelijk af van de grootte van het lint en moet dienovereenkomstig worden gekozen. Het lint kan worden gebruikt met 12 V DC, afhankelijk van de toepassing. LED strip light domineert ook de automobielmarkt. In dit geval worden LED-strips met een constante spanning van 24 V gebruikt. Vergeleken met de klassieke ledstrips verdubbelen de 24 V strips het aantal diodes op één strip. Op rol gewikkelde LED-tapes zijn verkrijgbaar in specifieke meterreeksen en bereiken gewoonlijk een lengte van 5 meter. Aangezien elke module in de band zijn eigen legsysteem heeft, is het mogelijk de band op elk punt door te knippen.
LED-stripverlichting typen
Soorten LED-strips
LED strip verlichting kan worden ingedeeld op basis van twee criteria: Temperatuur en kleur van de uitgezonden lichtbundel, alsmede het aantal en de grootte van de gebruikte diodes. In het eerste geval onderscheiden we gekleurde LED strips – wit (warm, neutraal, of koud), waarvan de keuze moet afhangen van de plaats van gebruik; monochroom (rood, groen, blauw, roze, of geel); monochroom RGB (variabele lichtkleur). Afhankelijk van het oppervlak van de strip worden in de modules LED's van verschillende afmetingen gebruikt (LED 3528 3,5 mm x 2,8 mm, LED 5050 5 mm x 5 mm, of LED 5060 5 mm x 6 mm).
Welke LED-chip u nodig hebt, hangt af van uw project. Lees hieronder voor meer informatie.
Knip LED strip verlichting
Waar LED Light Strips knippen U kunt LED lichtstrips niet zomaar overal knippen.
Snijden van LED Stripverlichting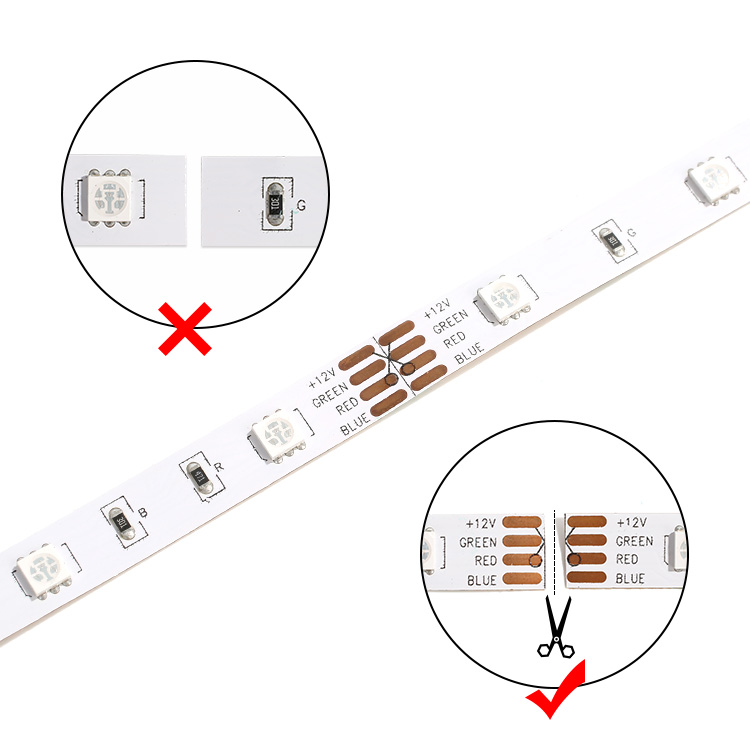 soldeer LED strip verlichting
soldeer de koperen puntjes
Kies de juiste LED voeding.
Indien u besluit alleen de tape en de aansluiting op afstand op het netwerk aan te schaffen, dient u bijzondere aandacht te besteden aan de keuze van het juiste voedingsapparaat. Afhankelijk van de lengte en het type van de LED-strip zal de stroomvoorziening verschillend zijn. In de regel worden de waarden gegeven in termen van een lineaire meter van de strook, zodat het gemakkelijk is het passende vermogen te berekenen met de volgende formule: P=Pm x l
P- doelvoeding
Pm- het vermogen van de LED strip per strekkende meter
l- lengte van de LED-strip
LED strip aansluiting aansluiten LED strip verlichting
Enkele kleur LED verlichting aansluiting
Installeren van RGB-strips