Najważniejszymi parametrami technicznymi zasilaczy są oczywiście jednostka mocy (W – WATT), natężenie (A – AMPER) i napięcie (V – VOLT). Napięcie wejściowe to rodzaj prądu dostarczanego do zasilacza (zwykle 230 V), natomiast napięcie wyjściowe określa prąd płynący między zasilaczem a samym źródłem światła. Oczywiście moc zasilacza to moc wynikająca z napięcia wyjściowego i natężenia prądu — rozwiązując problemy ze spadkami napięcia i zapewniając oszczędności na kosztach instalacji w tym procesie.
Co to jest zasilacz 24 VDC?
Zasilacz 24 V może przekształcać prąd zmienny na prąd stały. Niektóre urządzenia wymagają prądu stałego, ale mają dostęp tylko do klimatyzacji pochodzącej z powierzchni ściany.
W celu uzyskania pożądanego efektu świetlnego taśmy LED konieczne jest zasilenie odpowiednio dobranym zasilaczem, o czym decyduje zapotrzebowanie mocy taśmy LED. Zasilanie może być wyższe, nigdy niższe np. do zasilania 5-metrowej taśmy LED SMD 3528 300 LED – potrzeba 24W (watów) (5 metrów x 4,8W/m) należy dobrać zasilanie 30W 24V, a do zasilania 5 metrowej taśmy LED SMD 5050 150 LED – potrzeba 36W (watów) (5 metrów x 7,2W/m) Należy dobrać zasilanie 45W 24V.
Zobacz zasilacz 24vdc
Zasilanie 24V DC wyjścia 100W 4.16A (DC) sterowane impulsowo, stabilizowane, wodoodporne.
Ten zasilacz ma wysoki stopień ochrony IP67, wewnątrz jest w pełni uszczelniony, co czyni go wodoodpornym do użytku na zewnątrz. Jego obudowa jest odporna na uszkodzenia mechaniczne. Może być stosowany w pomieszczeniach i na zewnątrz. Maksymalnie 20 m 300 taśm LED lub 10 m 600 taśm LED jest wystarczające. Dzięki wbudowanym kablom podłączenie zasilania jest łatwe i szybkie. Każdy ma długość około 15 cm.
Napisz do nas, aby uzyskać ceny, w magazynie – zamów wkrótce
Nie widzisz swojego filtra ?
Skontaktuj się z producentem w sprawie kategorii produktów. Niestandardowe napięcia wyjściowe są dostępne przez OEM. Daj nam znać, czego potrzebujesz. Aby zobaczyć przedmioty wysyłane do innego kraju, zmień adres dostawy. Obsługujemy naszych klientów od 2011 roku, już teraz skontaktuj się z nami w sprawie zgodności opinii i ograniczeń.
Jak podłączyć taśmę LED do zasilacza?
Przejdźmy więc do bardziej skomplikowanego kroku, a mianowicie odpowiedzi na pytanie jak podłączyć taśmę LED do włącznika. Nie zniechęcaj się na początku, po prostu wydaje się to trudne, ale wcale tak nie jest. Chodźmy do pracy.
1. na przełączniku znajduje się złącze z napisem LED. Aby to zrobić, ostrożnie przylutuj wejście do paska LED.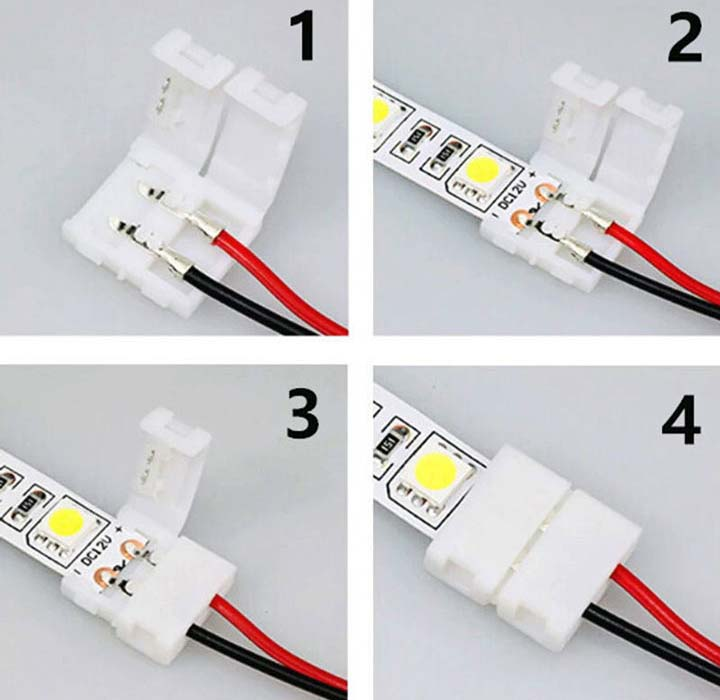 2. Następnie również przylutuj do złącza oznaczonego POWER SUPPLY , ale tym razem przylutuj przewody do zasilacza 12v DC.
3. Upewnij się, że wszystko jest prawidłowo zamontowane i podłączone.
4. Zamontuj przełącznik tam, gdzie należy.
5 Wywierć otwór w pokrywie na diodę nadajnika wiertłem 5 mm. Bardzo ważne jest, aby miał dokładnie taką średnicę.
6. Gotowe!
Schemat obwodu oświetlenia LED:
Podłączając taśmę LED zadbaj o równomierne rozłożenie napięcia!
Bezpieczeństwo i zgodność
Poniżej pokażemy, jak podłączyć pasek LED, aby uniknąć spadku napięcia.
Spadek napięcia nastąpi, jeśli w jednej sekwencji połączymy szeregowo więcej niż 5 m taśmy. Początek paska LED będzie świecił znacznie jaśniej niż koniec.

W przypadku taśm LED dłuższych niż 5 m najlepiej jest podłączyć zasilanie na środku odcinka, aby zapewnić strumień świetlny na końcach taśmy LED.