Sterownik zapewnia, że światło LED jest stale zasilane prądem, czyli jak zasilacz. Jednak kierowca zapewnia również, że prąd ten nie ma szczytów. Gwarantuje to, że oprawa LED nie ma skróconej żywotności ani zmniejszonej niezawodności.
Aby to zapewnić, sterownik musi być kompatybilny elektrycznie z dwoma napięciami. Ta konwersja musi odbywać się przy możliwie najniższych stratach, wysokim współczynniku mocy i niskim wytwarzaniu harmonicznych w sieci.
Dodatkowo, aby utrzymać zasilanie diod LED bez wahań, sam sterownik musi mieć doskonałą stabilność i ochronę przed skokami napięcia, na które narażone są sieci elektryczne.
Jakie typy sterowników LED są dostępne dla świateł LED?
Istnieją dwa rodzaje sterowników LED: sterowane napięciem i sterowane prądem. Chociaż oba są, obecny model jest częściej wykorzystywany do różnych celów.
Istnieją unikalne modele do użytku domowego, zamkniętych środowisk (korporacyjnych, handlowych) i usług przemysłowych. Każda oferuje oprawę, która najlepiej odpowiada potrzebom i zapewnia najbardziej odpowiednie oświetlenie.
Jak wybrać sterownik LED?
Ponieważ jest to podstawowy i bezpośrednio decydujący składnik dla certyfikacji żywotności oprawy LED, niezbędna jest ocena niektórych parametrów funkcji sterownika.
Wśród tych czynników najważniejszy jest współczynnik mocy i sprawność. Zgodnie z brazylijskimi standardami współczynnik mocy kierowcy powinien zawsze wynosić powyżej 0,92. Wydajność sterownika LED należy sprawdzić, aby upewnić się, że mieści się w zakresie od 83% do 93%.
Wybór odpowiedniego sterownika LED do aplikacji, oprawa LED
Zasilacze LED: Sterowniki LED o stałym napięciu, diody LED, które działają ze sterownikiem stałego napięcia, wymagając stałej ilości napięcia wyjściowego , zwykle 12 V DC lub 24 V DC.
Wyższe napięcie (120-277V)
Prąd wyjściowy 1A 2A 3A 5A 10A 12A 15A 20A 25A 30A
Sterownik LED prądu stałego
W stałoprądowych sterownikach LED typowo prąd wyjściowy wynosi 700mA, a zakres napięcia wyjściowego to 4-13V DC (wolty prądu stałego). Modułu LED stałoprądowego działającego przy stałym prądzie NIE wolno łączyć równolegle, tylko szeregowo.
wejście napięciowe. Użyj do opraw oświetleniowych LED do szafek, instalacji oświetleniowych opraw LED
Wyższe napięcie (120-277V)
prąd przemienny
Połączenie szeregowe wykonuje się zgodnie z poniższym przykładem.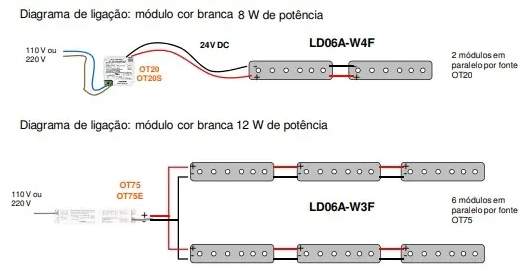 Sterowniki LED z możliwością ściemniania
Sterowniki do ściemniania
Zasilacze zewnętrzne z możliwością przyciemniania
Jak działa światło LED: obwód LED prądu stałego
Podłącz jeden z przewodów w pierwszym module (-) i wykonaj połączenie (+) i (-), łącząc z jednego modułu do ostatniego, natomiast jeden przewód (+) wychodzi poza obwód i łączy się z poprzednim modułem.
Najważniejsze jest to, aby źródła zasilania zawsze były połączone szeregowo, nigdy równolegle.