De driver zorgt ervoor dat de LED-lamp continu van stroom wordt voorzien, dus als een voedingseenheid. De driver zorgt er echter ook voor dat deze stroom geen pieken heeft. Dit zorgt ervoor dat het LED-armatuur geen verkorte levensduur of verminderde betrouwbaarheid heeft.
Om dit te garanderen, moet de driver elektrisch compatibel zijn met twee spanningen. Deze conversie moet gebeuren met zo laag mogelijke verliezen, een hoge powerfactor en een lage opwekking van harmonischen in het netwerk.
Om de stroomtoevoer naar de LED's zonder schommelingen op peil te houden, moet de driver zelf bovendien een uitstekende stabiliteit en bescherming hebben tegen spanningspieken waaraan elektrische netwerken worden blootgesteld.
Welke soorten LED-drivers zijn er voor LED-verlichting?
Er zijn twee soorten LED-drivers: spanningsgestuurd en stroomgestuurd. Hoewel beide zijn, wordt het huidige model vaker voor verschillende doeleinden gebruikt.
Er zijn unieke modellen voor thuisgebruik, gesloten omgevingen (zakelijk, commercieel) en industriële dienstverlening. Elk biedt een armatuur die het beste past bij de behoeften en de meest geschikte verlichting biedt.
Hoe de LED-driver kiezen?
Aangezien het een fundamenteel en direct bepalend onderdeel is voor de certificering van de levensduur van een LED-armatuur, is het essentieel om enkele parameters voor de functie van de driver te evalueren.
Van deze factoren is de belangrijkste de arbeidsfactor en efficiëntie. Volgens Braziliaanse normen moet de arbeidsfactor van een bestuurder altijd boven 0,92 liggen. De efficiëntie van een LED-driver moet worden gecontroleerd om er zeker van te zijn dat deze in het bereik van 83% tot 93% ligt.
De juiste LED-driver voor uw toepassing kiezen, LED-armatuur
LED -voedingen : LED-drivers met constante spanning, LED-lampen die werken met een driver met constante spanning om een constante hoeveelheid uitgangsspanning te vereisen, meestal een lichtopbrengst van 12V DC of 24V DC.
Hogere spanning (120-277V)
Uitgangsstroom 1A 2A 3A 5A 10A 12A 15A 20A 25A 30A
Constante stroom LED-stuurprogramma
In LED-drivers met constante stroom is de stroomuitgang doorgaans 700 mA en is het uitgangsspanningsbereik 4-13 V DC (volt gelijkstroom). De constante stroom LED-module die op constante stroom werkt, mag NIET parallel worden aangesloten, alleen in serie.
spanning ingang. Gebruik voor LED-armatuurkastverlichting, LED-armatuurverlichtingsinstallatie;
Hogere spanning (120-277V)
wisselstroom
Serieschakeling wordt gemaakt volgens onderstaand voorbeeld.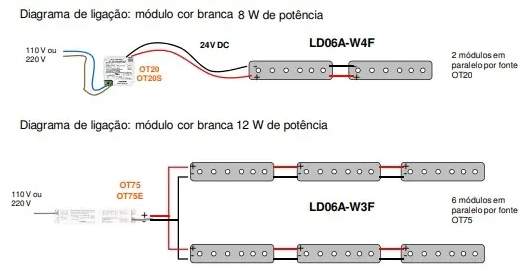 Dimbare LED-drivers
Dimbare drivers
Buiten dimbare voedingen
Hoe het LED-licht werkt: LED-circuit met constante stroom
Sluit een van de draden in de eerste module (-) aan en maak de verbinding (+) en (-), verbindend van de ene module naar de laatste, terwijl één draad (+) buiten het circuit gaat en verbinding maakt met de vorige module.
Het belangrijkste is dat stroombronnen altijd in serie moeten worden aangesloten, nooit parallel.