Advantages of the LED lighting project
First, you save on your electricity bill. Especially in winter, when we use artificial light more intensively. LED lighting is one of the cheapest sources of light. In addition, they are safe, do not heat up like conventional light sources, and do not contain harmful substances.
This lighting lasts for years thanks to its long life. LED strips are easy to install and do not take up much space. It is sold in rolls of 5 meters or by the meter. The strips can be cut into smaller lengths at the designated points.
Connecting LED signage to the LED power supply
The market offers a wide range of LED transformers.
We can choose between three methods of installation:
Plug-in LED power supply – ideal for lighting systems with low power consumption. This version of the power supply is equipped with a plug that is inserted directly into a socket and a terminal that terminates in a DC plug.
Modular LED power supply – wires are installed by screwing them in this power supply. At the bottom of the power supply, we screw in the 230V wires, L – brown and N – neutral. On the top of the transformer, we connect our LED tape according to the scheme: red wire to the positive pole and black to the negative pole.
An outdoor LED power supply – is recommended for installations exposed to complex conditions. It has already installed wires, which only need to be connected to 230V power (brown and blue) with LED tape (red and black wire).
Wiring diagram for LED lighting:
When connecting the LED strip, ensure that the voltage is evenly distributed!
In the following, we present ways to connect the LED strip so that voltage drops are avoided.

The voltage drop will occur if we connect more than 5 m of the strip in series in a series. The beginning of the LED strip will shine much brighter than the end.
In lighting systems with LED strip lights over 5 m, it is best to connect the power in the middle of the section to ensure uniform light output at the ends of the LED strip.

Where are LED Power supplies used?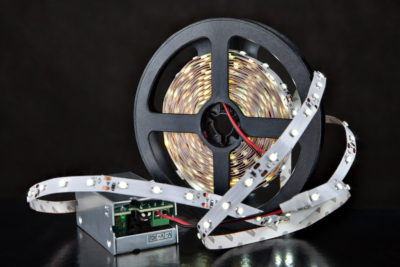 Lighting with an LED strip can have both a practical and decorative function. LED strips work well as lighting for selected areas, such as the kitchen, dressing table, and desk. Undoubtedly, a practical application is also the lighting of passageways, such as a hallway or stairs.
Light-emitting diodes are also suitable for room decoration – with their help, we can illuminate elements such as a suspended ceiling or an alcove, creating a unique atmosphere. Using them in a bar, a glazed bookcase, or a dresser with a stained-glass door looks very decorative.
LED Driver use for LED architectural lighting installation
Architectural lighting fixtures can be made in different technologies and used for different purposes.
Constant current drivers Specification:
Power: 3-5W/4-7W/8-12W/12-18W/18-25W
AC input side: 85-265V
Frequency: 50-60HZ
DC output Current: 300 ± 5% mA
This LED driver can be used for halogen lamps, ceiling lamps, lighting panels, etc.
Short circuit protection, voltage protection, overcurrent protection.
With high quality and durable performance.
Warning:
Due to the difference between different monitors, the picture may not reflect the actual color of the item.
LED Driver use for LED strip lights
Plastic indoor 12vdc power supplies
LED power supply 12 Volts 0.6 A to 12.5A
Waterproof Constant Voltage LED Drivers in plastic housing for LED strips, LED lighting, and lighting project
Input Voltage 100-240V
Output Voltage 12V 24V
Waterproof outdoor 12v power supplies
LED power supply module 12vdc 5A to 33 Ampere = 400 Watt max
Rainproof, good for outdoor lighting installation
Maximum operating temperature
AC Input 100-240V 175-240V
DC Output 12V 24V
Dimmable power supply
Indoor Dimmable power supplies
Triac dimmer
alternating current
AC side 100-240V
Outdoor Dimmable power supplies