LED strip lights
In a simple serial arrangement, modules on a flexible printed circuit board tape, consisting of three diodes and a resistor, allow maintaining a constant current flow in the circuit (the result of the specification for the operation of LEDs driven by direct current). The length of the modules for sale (25 mm, 50 mm, 100 mm) depends mainly on the size of the ribbon and should be chosen accordingly. The ribbon can be operated with 12 V DC depending on the application. LED strip light also dominates the automotive market. In this case, LED strip lights supplied with a constant voltage of 24 V are used. Compared to the classic led strips, the 24 V strips double the number of diodes on one strip. LED tapes wound on a roll are available in specific meter ranges and usually reach a length of 5 meters. Since each module included in the tape is its laying system, it is possible to cut the tape at any point.
LED Strip Lights Types
Types of LED strips
LED strip lights can be classified according to two criteria: Temperature and color of the emitted light beam, as well as the number and size of the diodes used. In the first case, we distinguish colored LED strips – white (warm, neutral, or cold), the choice of which should depend on the place of use; monochrome (red, green, blue, pink, or yellow); monochrome RGB (variable light color). Depending on the surface of the strip, LEDs of different sizes are used in the modules (LED 3528 3.5 mm x 2.8 mm, LED 5050 5 mm x 5 mm, or LED 5060 5 mm x 6 mm).
The LED chip you will need will depend on your project. Read below for more information.
Cut LED strip lights
Where to Cut LED Light Strips You can't cut LED light strips just anywhere.
Cutting LED Strip Lights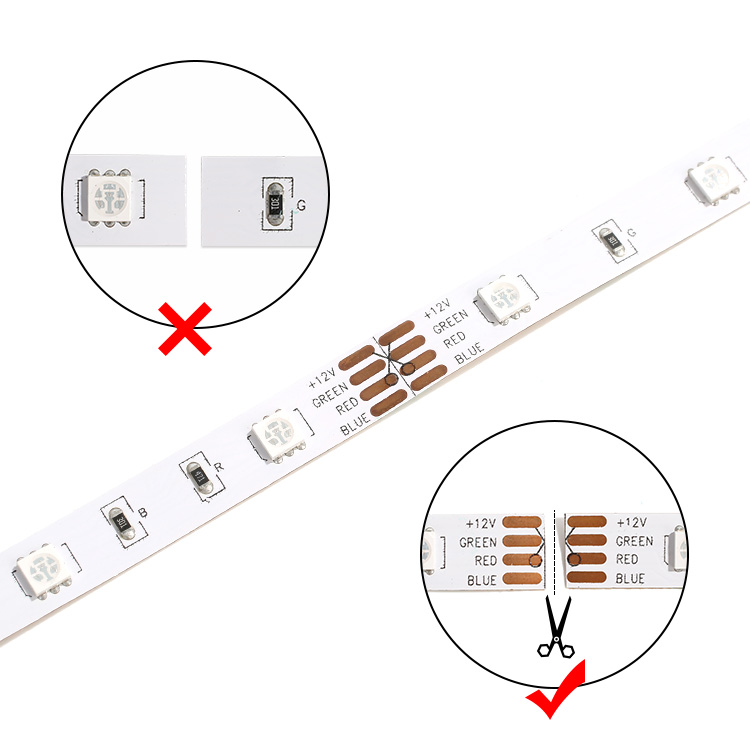 solder LED strip lights
solder the copper dots
Choose the right LED Power supply.
If you decide to buy only the tape and remote connection to the network, you should pay special attention to selecting the appropriate power supply device. Depending on the LED strip's length and type, the power supply will be different. As a rule, the values are given in terms of a linear meter of the strip, so it is easy to calculate the appropriate power using the following formula: P=Pm x l
P- target power supply
Pm- the power of the LED strip per running meter
l- length of the LED strip
LED light strip connection connect LED strip lights
Single color LED lights connection
Installing RGB strip lights